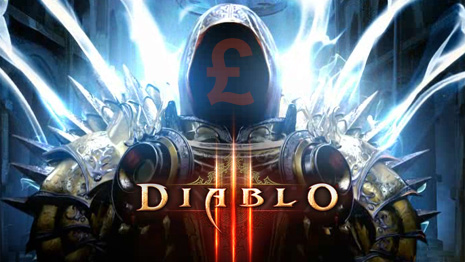 Before you look away in disgust - no this is not a guide to illegal gold farming or bot running. Blizzard's PC RPG Diablo 3 features an in-game auction house that uses real money.
Here's our top tips to capitalising on the online market.
If you want to make some dough from Diablo 3 you're going to need the rarest, most valuable and powerful items. That goes without saying.
You'll also need to sacrifice the ability of your character in exchange for money. If you come across an awesome item perfect for your class, like a sword or headpiece, you'll have to be happy with letting it go in exchange for some money.
Remember, Blizzard will take a small cut of every sale you make (around £1), plus you will only be able to list a certain amount of items for free on the auction house each week. Limit your sales to only the very best items every week to avoid paying out extra in fees.
Get ahead. This is the key. Within the first few weeks - even days - of the game's release, the virtual economy will naturally kick in. Look at World of Warcraft for an example. You're going to want to progress as fast as possible within this time to get the sexier gear. There's an opportunity here to get rare stuff before anyone else and before supply supersedes demand, so sell it at a mark-up. You still have around one week until the real money auction house goes live (around June 16th).
Be wary of marking a rare item with a low buyout price. Remember, in the early days a lot of the items won't have a set value yet, so you could be potentially giving away powerful items for next-to-nothing. Strike the balance between selling for a (seemingly) good price and selling something for what it's actually worth, which could be 10 times more than what you originally thought.
On the flipside, price items too highly and you're not going to make anything. Try and find the balance - look at other items on the auction house to make a judgement.
Have a look on the auction house for items that are priced unusually low. We've been playing the game for a few weeks now and have come across several rare items for a couple of thousand gold, which we've bought and re-sold for around 20,000 gold. The same rule applies for the real money auction house.
Be patient. If you have a specific and rare item and there is only one other on the auction house, you might want to wait a few hours or days until bidding ends for it. Then put your item up for auction at a higher price.
Online games follow the basic rules of supply and demand. If there are hundreds of items on the auction house for £1 each, you're not going to make much. Don't expect big bucks from items that are high in volume and low in demand.
Be sure to check back here when Diablo 3 is released for more up-to-date tips. In the meantime feel free to share your opinions and tips in the comments box below.
If you want to try something new and fun, check out some Guides To Online Gambling Games available today.